Simple Ways to Get Your Home Ready for the Holidays
Simple Ways to Get Your Home Ready for the Holidays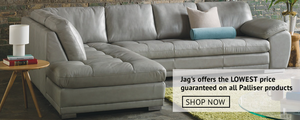 With the holidays just around the corner, many people are getting prepared for festivities with friends and family. Which is something Jag's would like to help you plan for with these 'Simple Ways to Get Your Home Ready for the Holidays'!
Assess Your Space
Whether you have a small Yaletown apartment or a spacious Abbotsford farmhouse – assessing your space will help you create function within your home, as well as better ensure a relaxing holiday. From beds to sectionals, dining room seating to living room setup, having your home ready for the unexpected will offer everyone a pleasant time.
If more seating options is what immediately comes to mind, a sectional could nicely serve your living room or family room. At Jag's, we offer various types of sectionals to choose from - including: U-shaped sectionals, L-shaped sectionals, semi-circular shaped sectionals, and even power reclining sectionals.
Find out more HERE!
Table for 2? 4? 6?
Knowing how many people you can realistically fit around your table is also a good way to get ready for the holidays. If your immediate family has outgrown your current dining room furniture, this automatically means that there definitely isn't enough room for additional guests. But this is something Jag's can help you easily solve too.
From the bold styling of our Bellamy dining set, to the soft edges of our Music City classic, we have a dining room set for every occasion, taste and lifestyle choice.
Find out more HERE!
Be Bed-Ready
Taking stock of your bed situation may also be important, which makes our Lexi 10.5 bed in a box for ONLY $698 the perfect, compactable size AND price!
Alternatively, solve your sitting AND sleeping situation with a pull-out sofa. With many styles to choose from, there's sure to be a sitting/sleeping combo at Jag's that suits your needs.
Buy Now, Pay Later
We offer our customers a variety of payment options through our Jag's Finance Card. From 6, 12 or 15 months, our Jag's Finance Card allows you to buy now and pay later, with 0% interest too!
If you are looking for local, affordable, quality furniture for the holidays – Jag's can help, and we look forward to serving you in our Abbotsford or Langley furniture showrooms soon!