Be Sectional Savvy This Spring -PLUS- Don't Pay for 15 Months!
Be Sectional Savvy This Spring -PLUS- Don't Pay for 15 Months!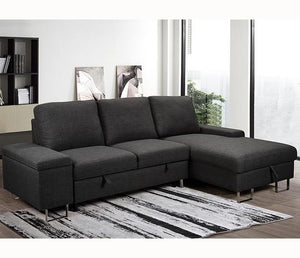 May is an excellent time to refresh your space with furniture that can make your daily life more comfortable and enhance your overall lifestyle. With sectionals offering multi-functional features – such as right or left configurations, various colours and materials, and even pull-out bed options, they are an excellent investment for unexpected guests, a growing family and various room shapes and sizes!
Sectionals – Great for Small Spaces
Whether you are a homeowner or choose to rent your home, people are choosing to live in more compact homes for a variety of reasons. As such, sectionals have blossomed in popularity year after year and people furnish their home with these compact couches that provide a clean look that saves space, and delivers a lot of seating options without overtaking a living room.
Sectionals – Great for Large Spaces Too
For families who have larger homes who want extended seating options for playrooms, family rooms or entertainment rooms, our large sectionals are also a great options to keep your space tidy, while making room for family, friends and neighbourhood gatherings.
Sectionals – Many Styles, Many Options
At Jag's, we offer three different types of sectionals to choose from - including: U-shaped sectionals, L-shaped sectionals, semi-circular shaped sectionals or even power reclining sectionals, allowing you to recline and relax at the push of a button!
Whether you live in a smaller space and require compact seating options, a larger space and want a spacious sectional to seat the entire family, or even perhaps have an office that could benefit from a non-traditional U-shaped sectional for a more "at home" feel to your business space – a sectional can meet all these needs and more.
Furniture Financing Made Simple
With our Jag's Finance Card, we make buying furniture simple; offering our customers "buy now pay later" purchasing options that can help them furnish a new home, improve their dining room, or simply upgrade their living room seating with a sectional – whatever purchase you desire, we can finance your furniture with only 10% down, 0% interest, and no payments for 6-15 month terms!
If you are considering buying a sectional, feel free to browse our online selection and see the many configurations, styles and colour options we have to choose from! SHOP NOW