Buy Now, Pay Later & Deliver Style to Your Home this Christmas Season
Buy Now, Pay Later & Deliver Style to Your Home this Christmas Season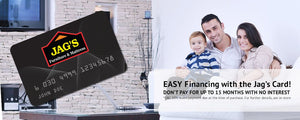 Did you know that at Jag's, we can deliver your furniture items across the Lower Mainland? And we don't stop there; we also ship our furniture items directly to your home across BC and Alberta, making your purchasing decisions a whole lot easier to handle – literally!
Jag's Furniture – More Than Just Brand Names and Unbeatable Prices
Beyond our delivery options, our Jag's Finance Card allows you to buy now and pay later, with 0% interest for 6, 12, or 15 months. PLUS, for the month of December, we're also offering a 13 month term (OAC) – giving you the ability to furnish your new home with ease, restyle your family home with comfort, or surprise your son or daughter with a piece of furniture for their first apartment.
Discover The Jag's Card Difference
Our Jag's Finance Card is a popular option for people looking to minimize their upfront expenses, allowing them to budget a monthly payment or a next year payment plan, without having to forego style or comfort.
At Jag's, your financed purchase will be maintained through Fairstone Financial, providing you with flexible payment options and offering a 13 month term this month, carrying you through into 2020!
With only a 10% down payment due at the time of purchase, it allows you to take advantage of all the unbeatable sales we have coming up in December, allowing you to get into that dining room table you desire for Christmas dinner, or the sectional that will make family movie nights just that much more comfortable, or the bed you've been wanting to acquire that dreamy full nights rest in; it's all available to you right now through our Jag's Finance Card!
Your Lifestyle Choices Made Simple
At Jag's, we understand that lifestyle choices are different, needs and timelines are varied and style preferences are unique – which is why we offer many customizable pieces, as well as provide delivery and financing solutions to attend to the various buying demands of our customers.
We love seeing you thrilled with your purchases, knowing we have had a hand in enhancing your lifestyle just a little bit, and look forward to doing that for your this Christmas season and throughout 2019!