Sifting Through "the Grey" When Choosing Living Room Seating Options
Sifting Through "the Grey" When Choosing Living Room Seating Options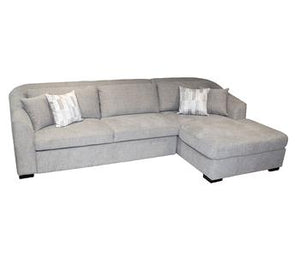 Grey is a popular shade for living room seating options – and for good reason! It's a durable shade than can withstand the rigors of life, mixes with any accent colour and is timeless.
However, when choosing seating options, Jag's understands that there's a lot more that goes into it than colour, tone and shade. Which is why we want to help you sift through all the decision making steps before investing in your purchase – and here's how!
Observe Your Surroundings
Before inserting a new sofa or sectional into your living room, you need to understand the actual dimensions and layout of your space. Not only for the purpose of knowing what will fit where, but to also ensure – if you are buying a sectional, that you know whether you require a left facing or a right facing option.
Perhaps you have a small apartment that requires an "apartment sized" sectional, or you have a spacious family home that is best suited for a traditional couch, love seat and chair – Jag's is proud to offer new seating options worth a "boo" this October, and include the:
Sabrina Sectional
Archie Sectional
Durant Sectional
Phoenix Sofa, Love, Chair
Riley Sofa, Love, Chair
Decide On Design
Beyond these new products, we offer a wide selection of sofa and sectional styles to fit any lifestyle. From modern to traditional, clean lines to over-stuffed, custom to classic …our showrooms in Abbotsford and Langley delivers them all!
Chose a Lifestyle Friendly Upholstery
Whether you have pets, small kids, high traffic homes with a lot of friends and family coming and going, or are a busy professional - choosing your upholstery also matters.
Upgrading your home to reflect a rustic chic appeal? Looking for your forever couch that fits both your comfort level and the look that will stand the test of time? We would love to help you uncover what design would work best for you, your home, and your budget.
From durability to comfort, longevity to design, Jag's offers endless material colours and patterns, as well as leather grades that will work for your home. We look forward to showing you our many new items, and help you invest in furniture that you will love!