Create Comfort in Your Home for the Christmas Holidays - and Beyond!
Create Comfort in Your Home for the Christmas Holidays - and Beyond!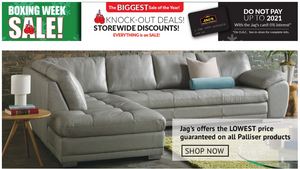 With the Christmas holidays well underway, many of us are anticipating gathering with friends and family, entertaining guests for dinner, and likely hosting many overnight guests as well.
This is usually the time people recognize their need for more seating – whether in the dining room or the living room, as well as their need for more sleeping options, and Jag's is here to help! Not only with the comforts of Christmas, but to assist you in making furniture buying decisions that will benefit you throughout the year too.
The Diverse Comfort of Sectionals
Sectionals have become incredibly diverse, with many custom options to create the perfect setting for your living room and lifestyle.
Whether choosing material colours, leather grades, left or right facing seating; a sectional is an excellent option that gives you a lot of options without taking up a lot of space, and Jag's has a huge selection of sectionals to choose from to ensure you're fully satisfied with your purchasing decision!
Choosing a Dining Room Table that Fits Every Occasion
Our dining room options are also extensive – from different wood tones and seating options, to various heights and length, Jag's is here to help with all your dining room furniture buying needs for the Christmas holidays and every season thereafter!
Bedding Options for Unexpected Guests
From bed-in-a-box to pull-out sleepers, Jag' can help you find additional bedding options for your home that are affordable and effective.
In addition, we can provide you with a brand name mattress to ensure you are getting the rest you deserve in 2020.
PLUS with our Jag's Finance Card, you can choose from 6, 12 or 15 months to pay, allowing you to take the time you need to pay back your furniture purchase, while still being able to afford to make your home a comfortable space when you need it.
At Jag's Furniture & Mattress, we make your comfort our priority, ensuring you are happy with your purchase at our Langley or Abbotsford furniture and mattress locations.
Stop by and allow us to add some 'merry and bright' additions to your home this Christmas, and start your New Year with simple comforts!