Why a New Mattress and a Better Life Go Hand-In-Hand
Why a New Mattress and a Better Life Go Hand-In-Hand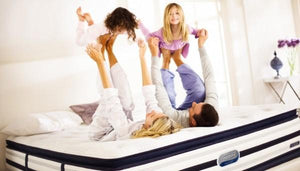 What if we told you you could live a better life with a new mattress from Jag's? Well, we can and we will – because it's true! Getting a restful sleep is paramount in the productivity of your day, your health and your overall happiness. Without adequate sleep you are actually subject to premature aging, a decreased ability to deal with stress, aches and pains in your body due to the lack of deep sleep required in order to repair itself each night – among other things. Which are just some of the reasons we can confidently say are 'Why a New Mattress and a Better Life Go Hand-In-Hand', and why we want to help you find your perfect sleep on one of our mattresses at our Langley or Abbotsford location!
We Called Ourselves 'Jag's Furniture & Mattress' for a Reason!
At Jag's Furniture & Mattress, we are proud to offer Canadian made furniture, as well as a variety of customizable furnishing options for your entire home. But no home would be complete without the perfect mattress on which to recover each and every night, which is why Jag's delivers top brand name mattresses in our sleep gallery including:
Serta Perfect Sleeper
iSeries
iComfort
Simmons Beautyrest
…and more!
Plus … We Price Match and Finance!
Looking for a mattress at a "mattress only" store? If you're under the impression that stores who only carry mattresses will offer you a better deal due to that being their primary product, you are actually mistaken. We are confident that our mattress selection can rival any competitor – both in price as well as variety. Don't lose sleep over high mattress prices, or lower the quality of your comfort to make it an "affordable" purchase. Jag's will get you into the mattress of your dreams (literally) and offer you financing so you won't have to wait a minute longer to receive the sleep you deserve! If you have owned your mattress for over 5 years, suffer from allergies, have a child that is starting school and requires a "big boy/girl bed" – stop by and check out our selection, service, financing and delivery, and get into a new mattress today!