Finance Your Furniture to Create Your Dream Home!
Finance Your Furniture to Create Your Dream Home!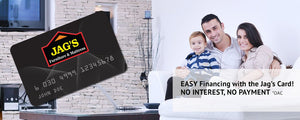 Creating a space we love is something we all desire, but sometimes financial roadblocks can cause us to sit on a couch that isn't our optimal choice, or sleep on a bed that delivers a lousy nights sleep, or eat from a dining room table that never offers enough seating for friends and family. Which is why Jag's would like to share about how you can 'Finance Your Furniture to Create Your Dream Home'!
Forego the Financial Stress by Stalling Your Cost of Living
Individuals from all walks of life is fully aware of the cost of living here in the Lower Mainland. It's sky high. That being said, we live in one of the most beautiful places on earth so we absorb these costs somewhat "willingly". However, financial shortages can prevent you from living a life you prefer, and Jag's fully understands that, which is why we offer financing for your furniture purchases that allow you to stall your payments by 6, 12 or 15 months. Financing allows a lot of people the time they need to get their tax return back, receive that work bonus, or slowly pay off their furniture purchase in a manageable monthly fashion without having to forego that must-have piece of furniture, or take advantage of any of the amazing sales we have going on throughout the year.
Financing Provides the Solution Needed to Create a Fabulous Space
Creating a beautiful interior space, to match the exterior beauty of Metro Vancouver, makes sense to us - and Jag's helps our customers achieve a fabulous space through our financing option. Financing does not mean you will eventually paying twice as much for a piece of furniture. In fact, if you are taking advantage of a sale – you may very well be SAVING money while creating your fabulous space!
Up-Sell Your Condo & Invest in Keepsake Furniture
Another reason to invest in furniture through financing is if you are in the midst of selling your space in order to move on to "bigger and better". Staging a home with the right furniture is known to sell a home faster and for more financial gain. Plus, if you are choosing furniture that you LOVE, you will also be taking this furniture into your next home, making an immediate investment that will pay off in the sale of your space, as well as having keepsake furniture you will take into your next home!
Understanding Jag's Financing
Financing your purchase through Fairstone Financial through our Jag's Finance Card, provides you with flexible payment options available to our customers in 6, 12, or 15 month terms based on approved credit. We would be happy to explain all the terms and conditions that apply in-store, while helping you achieve your dream home and take advantage of our
FURNITURE SALES GOING ON NOW
!