Buy a Dining Room Set Made For Every Occasion
Buy a Dining Room Set Made For Every Occasion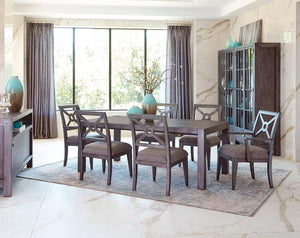 Nearly every month there seems to be a cause for celebration in Canada. Whether hosting Thanksgiving dinner, Christmas breakfast, Easter brunch, or a family birthday or anniversary, having the right dining room furniture to celebrate around is an important part of any festivity. Which is why it is important to 'Buy a Dining Room Set Made For Every Occasion', and why - at Jag's Furniture, we feel it is important to share just how to make these kinds of buying decisions.
Choosing Timeless and Traditional
When choosing a dining room table, it is a very individual choice based on space, colour, material preferences, and budget. Which is why we often suggest timeless and traditional when it comes to purchasing your first dining room table; that way your dining set can transition from your first condo, into your next living environment with ease – growing with your lifestyle seamlessly.
Jag's Timeless & Traditional Pick… Bellamy!
Perfectly proportioned to accommodate sprawling school crafts, fits of amateur bread baking, or the usual holiday assemblage …the classically inspired
Bellamy group
maintains its pristine demeanor no matter what the task.
Splurging on Modern
Perhaps you have multiple dining areas in your home, or you are simply looking for a statement piece within your space, splurging on a modern dining room table can be a real treat – and one that we make affordable at Jag's! Although some might think of "modern" as an item that won't stand the test of time, we beg to differ. In a world where fashion is now largely based on personal preference – the same rings true for interior furniture purchases. What might be modern to one person could truly be timeless for another, so keep an open mind when shopping for a dining room set, and surprise yourself with a purchase you love.
Jag's Modern Pick… !
The
Coralayne dining room collection
allures with all the glitz and glam, ready to make your space sparkle with ease!
Take a Walk in the Country
Shabby-chic has been a design trend that shows no sign of slowing down, and with country furniture being an ever-popular choice - you can bet that buying a country dining set will have you smiling at your decision for years to come.
Jag's Country Pick… Whitesburg!
With the warm two-tone look of the cottage white, and burnished brown finishes beautifully accenting the stylish cottage design, the
Whitesburg dining collection
creates an inviting cottage retreat within the décor of any dining room.
Other considerations include: product material, size, shape, and seating options, and with so many
dining room selections
to choose from, Jag's is your choice furniture store to ensure you purchase a set ready for all your special occasions …and daily dining too!