Finding the Right Sectional for Your Space
Finding the Right Sectional for Your Space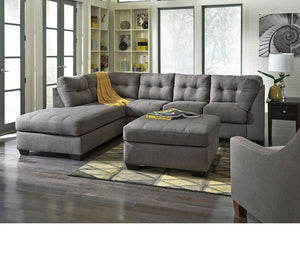 A sectional sofa is a popular choice among furniture buyers today. Whether purchasing a sectional as a means to save space, or the preferred tidy visual appeal they offer, sectionals are one of the top selling couches in the marketplace, which Jag's would be thrilled to help you in "finding the right sectional for your space"!
Choosing Your Configuration & Colour
As with many of our sofas at Jag's, choosing your colour and material grade comes standard with your quality furniture purchase. In addition, when choosing a sectional, you are able to choose which configuration you require for your home, allowing you to customize your couch as needed to your specific specs.
Choosing the Cozy Comfort of a Sectional
A sectional sofa also offers a cozy place to spend time with friends and family, keeping everyone seated in a relaxed fashion. Whether putting your feet up on the attached ottoman, or choosing a reclining option – creating your sectional your way is easy at Jag's!
Choosing a Sectional Style
There are 3-types of sectionals you can choose from, which include: U-shaped, L-shaped or a semi-circular shape, so deciding on the shape that best suits your style is step #1 in the buying process. If you're working within the confines of a smaller condo, an L-shaped sectional is likely going to be the right choice for your home. However, if you have a large family room you are looking to fit with ample seating, the U-shaped or semi-circle option is an excellent choice.
Final Considerations When Choosing a Sectional
Before purchasing your sectional, take into consideration the flow of traffic in your home. Having to maneuver around large furniture items, or a piece of furniture that is not configured correctly, will quickly become an annoyance – so plan accordingly. Also, knowing the dimensions of your sectional is important, which includes the length AND depth in order to ensure you will be able to move it through your doorways leading into your home. If you are considering buying a sectional, feel free to browse our online selection and see the many configurations, styles and colour options we have to choose from!
SHOP NOW