Deciding Between Leather, Microfiber or Fabric as a Pet Parent
Deciding Between Leather, Microfiber or Fabric as a Pet Parent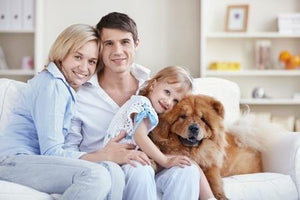 Being a pet parent is a big responsibility that comes with a lot of rewards also, but sometimes your sofa can bear the brunt of furniture damage when it comes to owning a pet. Whether you are a proud puppy owner and prefer the company of a feline, these soft critters do tend to take a toll on your living room furniture – which is why Jag's wants to help our reading audience on 'Deciding Between Leather, Microfiber or Fabric as a Pet Parent'!
Colour Counts
First of all, choosing the right couch colour is important in hiding any blemishes or stains. So of course white – or any shade therein, should be off the list of options, as this will quickly show fur, paw prints and stains. Alternately, pick a darker shade of leather, texturized fabric, or stain-resistant microfiber, which we further explain the pros and cons of below…
Leather Sofa Considerations
Dog owners tend to like the convenience of a leather sofa or sectional with the many colours and finishes available, and the easy cleaning options. Where glossed leather is good at repelling dirt and liquid, distressed leather works well to blend in any scuffs, so deciding on what finished look and benefits therein plays a part too. That being said, as a cat owner – leather might not be the best option for you, as they will tend to scratch the couch, leaving a very scarred looking sofa in very little time.
The 'Maybe' of a Microfiber Sofa
Unlike leather, cat owners do tend to have positive results with microfiber, as this soft synthetic fabric isn't as attractive to cats to sink their claws into. In addition, it can easily be vacuumed, or a lint brush can be used for fur, as well as spot cleaning is simple – making it an appealing choice for dog owners as well.
Risk Considerations of a Fabric Sofa
Some customers simply do not like leather, nor prefer the synthetic feel of microfiber, so they opt for a fabric-covered sofa that delivers a plethora or colour options and patterns. For those pet owners who's cat does not tend to scratch, and dog owners who don't tend to shed excessively, a fabric sofa is a perfectly fine option for furnishing your living room, and one that Jag's has MANY Canadian Made and custom options to consider. With showrooms in Abbotsford, Chilliwack, Kelowna, Langley and Coquitlam, we offer a long list of furniture brand names such as…
Ashley
, Aspen Home, Best Home Furnishings, 
Decor-Rest
, 
Cheers
, Defehr, Elite Sofa Designs, Emerald Home, 
Flexsteel
, Jofran, Leather Italia, 
Magnussen
, 
Palliser
, 
Steven & Chris by Decor-Rest
, and Sunny Designs. As well, Jag's carries a lot of newly improved fabrics on all our sofas and sectionals, which are 100% polyester and pet friendly – creating a 'leather look' but are actually fabric. No matter your furniture buying need, we look forward to serving you and finding the right fit for your home!