How To Find the Right Mattress for an Optimal Nights Sleep
How To Find the Right Mattress for an Optimal Nights Sleep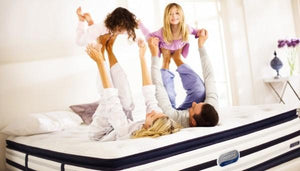 At Jag's Furniture & Mattress, we offer a wide selection of Serta and Simmons brand name mattresses at the lowest guaranteed price, providing our customers various choices in comfort, size and features that are best suited to their sleeping needs. After all, when you spend roughly one third of your life in your bed - making that time a restful experience is important. No one wants to spend night after night tossing and turning, trying to find the right position that will enable them to rest soundly, so choosing the right mattress for your sleeping style and preferences is important and we're here to help you do so!
Buy Your Mattress Based on Preference
Selecting a mattress is based largely on personal preference, depending on if you like a soft bed, a firm bed, a memory foam support bed or something in-between. Much like the Goldilocks tale, finding a mattress that is not too hard and not too soft will be the science behind giving you a good nights rest. Too soft of a mattress can cause back pain due to a lack of support, and too firm of a mattress could result in creating added pressure and discomfort on the sacrum, shoulders and back of skull. Which is why a lot of people choose a medium mattress and add in a pillow top or memory foam topper to create that "just right" feel.
Allergies and Your Bed
Allergy sufferers might consider buying a bed that in hypoallergenic, as this will also aid in a better nights sleep, or invest in a mattress cover that can also offer these benefits.
Take Into Account Your Mattress Lifespan
Your mattress has a lifespan of around 10 years, after which time it will begin to sag in the areas you put the most pressure on it each night. So if you are nearing that 10-year mark, or have far surpassed it – come by and take any of our mattresses for a test-drive.
Test Your Bed Before You Buy
At Jag's Furniture & Mattress, we want our customers to be thrilled with any purchase they make from our 4 showroom locations; and that rings true for your mattress as well. Don't be shy …feel free to stop in and take a catnap on our wide selection of mattresses in order to help you find the "just right" mattress for you. It's an important part of your mattress purchasing decisions, and we support the idea fully! We are proud to offer our mattress shoppers the best selection to choose their perfect mattress, and our Simmons and Serta mattress galleries are the largest in the Lower Mainland as well as in the Okanagan. All of our mattresses have the perfect blend of latest technology and comfort, guaranteed to give you a wonderful night's rest. So visit any one of our 
four Showroom locations
 in Abbotsford, Chilliwack, Kelowna or Langley to find a mattress that fits you, and start enjoying the optimal sleep you deserve!