Functional and Fashionable Furniture for a Small Space!
Functional and Fashionable Furniture for a Small Space!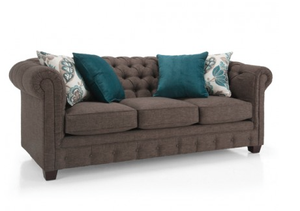 Living in a more economical space is increasing in popularity as housing costs go up, land diminishes and home sizes overall become more efficient. However, a smaller space doesn't need to mean you have to compromise on fashionable furniture, or functional pieces that make your home both look good, as well as offer solutions to everyday living. Whether you are a single who lives in a small condo, a family who is just starting out in a compact townhouse, or a growing family in a home that never quite feels large enough …at Jag's we're here to help your house feel like a home no matter how many square feet it delivers! Set the Tone With Statement Furniture Pieces Your space doesn't have to be overrun with furniture in order for it to feel homey or look appealing. In fact, a lot of times, less is more. By choosing a neutral coloured couch that has clean lines and doesn't take up a lot of "overstuffed" space, and accessorizing with colourful pillows, a throw blanket and tying it in with a area rug – it can truly make your space feel fresh and open. All of which items we have plenty of at any Jag's location! Add Space with Multi-Functional Furniture A lot of furniture today offers multiple functions. From ottomans that double as coffee tables and storage units, to beds that provide a chest of draws within it's base …there are a lot of everyday solutions that you can find at Jag's for your small living space, which will allow for less furniture with an increase in function! Choose Benches over Chairs Picnic style tables with bench seating are a popular choice in modern dining rooms. These elongated tables save on space, offering bench seating to minimize clutter from your dining area …keeping everything clean and tidy! Bigger Might be Better Just because you have a small space, doesn't mean you have to buy miniature furniture. Sometimes a bigger piece - such as a large TV storage unit can act as it's own "wall", while offering storage, shelving and display capabilities that a small unit wouldn't. Guest Bedroom Solutions A hide-a-bed is a great multi-functional couch that doubles as a guest bedroom for those unexpected overnight guests. Don't be caught with "no room at the inn", instead - stop by any Jag's location to see our many sofa bed options that you will love, and your company will too! At Jag's Furniture & Mattress, we're here to help you make the most of the space in your home, making it livable, beautiful and family friendly!